Treat yourself to a piece of history, engage with us for France's number one kitchen garden
For the first time in over 100 years, Potager du Roi is the object of a complete and unprecedented restoration project. The grand scale of the work needs your support.
Potager du Roi, the historic site of Ecole nationale supérieure de paysage (national school of landscape architecture), is a major element of the royal domain of Versailles.
Built between 1678 and 1683, at the request of Louis XIV, it constitutes an archetype of the French kitchen garden during the Baroque period.
Both a remarkable heritage site and a multi-faceted living garden, its original missions continue to be applied: to produce, experiment and transmit.
Restored and refurbished for the first time in the 1780's and a second time during the 1880's, Potager du Roi is today the subject of the first complete and unprecedented restoration project for over 100 years.
The immense scale of the project and the work to be accomplished needs your support.
Whatever the amount of your donation, become a patron of Potager du Roi and participate in a major element: the restoration of the Grand Carré through conservation and renewal of the historical metal armatures for the espalier trees and the new plantings of the corresponding fruit trees.
To begin work on the first line of metal espalier supports and the trees, we need you so as to raise at least € 25,000 before February 28th, 2021.
Make Friday Green again: the 4th of December, our partner Mademoiselle Saint Germain will donate 30% of its sales to the campaign. A good way to double pleasure!
Thank you all for your generosity !
Thanks to you, we already manage to reach our goal of € 25,000 !
There is still 100 days to go and we are full of hope to reach the new target of € 50,000.
€ 50,000  allows to restore and replant 2 lines of metal espalier supports and the trees of the Grand Carré. The adventure continues ! 
You are already more than 100 donors, from throughout France, and also from Germany, Switzerland, the USA, the United Kingdom, Spain, ... to have contributed to the campaign. A big thank you for your support! There are 115 days left, and, who knows, maybe we will manage to go beyond this initial objective!
The campaign is off to a good start! In less than ten days, we have attained half of our objective. Thank you to the numerous donors.
agnès b. is the official sponsor of the "my kitchen garden is Potager du Roi" campaign. It is her way of expressing her attachment to the site.
Discover different facets of Potager du Roi through six short video-interviews.
Launch of the fundraising campaign during the European Heritage Week-End.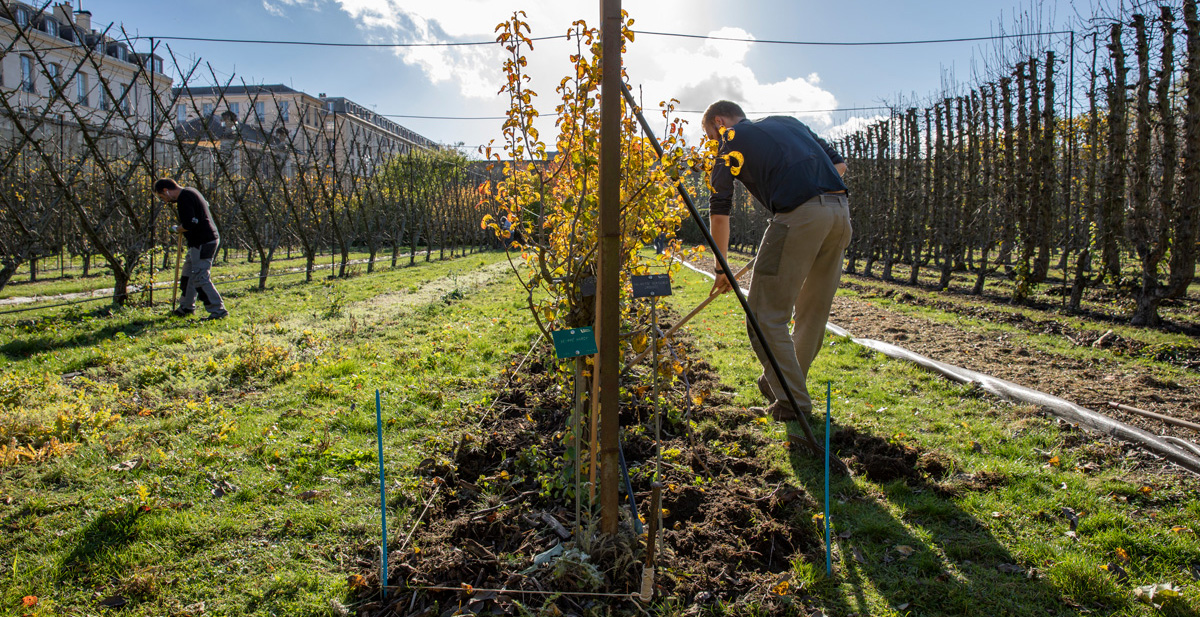 | Ana | Vincent | Daniel | Rémy | Brian | Thomas | Elise | Eric | Olivier | Frédéric | Yann | Catherine | Jean-Luc | Maxime | Françoise | Arnauld | Nicolas | Gilles | Jean-Marc | Noëlle | Lucile | Charles | Pierre | Catherine | Jeanne-Emma | Aurélia | Philippe | Martine | Bernard | Sorya | Agnès | Hervé | Philippe | Vincent | Alain | Béatrice et Claude | Denis | Antoine | Georges | Martine | Pierre | Florence | Ludovic | Solange | Hervé | Yvonne | Victor-Fabien | Laurent | François | Gladys | Simon | Christine | Timothy et Jessica | Suzanne | Anne-Marie | Pascal | Hélène | Marie-France | Olivier | Xavier | Eliane | Eric | Patrick | Christine | Martine et Daniel | Ingrid et Michel | Patrice | Stéphane | Aissatou | Alix de | Marianne | Christian | Marie-Laure | Pierrette | Antonia | Nicolas | Christine | Robert | Geneviève | Philippe | Pierre | Christos | Monique | Alain et Annick | Jean-Paul | Armelle | Daniel et Elisabeth | Jean-Michel | Blandine | François | Pierre | Association des | Annick | Dominique | Anne | Alizée Meissonnier et | Jean | Anna | Ghylaine | Luc | Karin | Véronique | Frédéric | Morgane | Odile | Gérard | Coralie | Joel | Stéphane | Lionel | Yannick | Laszlo & Nathalie | Valentine | Marie-Julie | Armelle | Catherine | Chun | Jean-Louis | Jean-Claude | Philippe | Eleonora | Nicole | Nicole | Christophe | Robert | Isabelle et Jean-Frank | Cécile | Lydia et Jean | Stéphane | Marc | Françoise | Martine | Maleen | Christiane | Delphine | Maureen | Christian | Danièle | Juliette | Micheline | Marie-Pierre | Isabelle | Thibault | Agnès & Sylvain | Yvan | Véronique | Nicolas et Marie-Pierre | Frédéric | Mado de | Michèle | Joris | Pascal | Régine | Monique et François | Audrey | Jeanne | Sandy | Salomé | Claire-Lise | Faustine | Sylvain | Colette | Marc | Stéphanie | Anne | Bruno | Sylvain | Martine | Matthias et David | Olivier | Philippe | Sophie et Arnaud | Hélène | Olga | Abigail | Valérie | Claire | Fabrice | Fabrice | Jean-Paul | Christian | Fabienne | Eric | Françoise | Paul | Hélène | Claude | Mademoiselle | Odile | Marie | Stephan | Philippe | Cartis Classic | Lorenzo | Françoise | Olivier | Corinne
| Ana | Vincent | Daniel | Rémy | Brian | Thomas | Elise | Eric | Olivier | Frédéric | Yann | Catherine | Jean-Luc | Maxime | Françoise | Arnauld | Nicolas | Gilles | Jean-Marc | Noëlle | Lucile | Charles | Pierre | Catherine | Jeanne-Emma | Aurélia | Philippe | Martine | Bernard | Sorya | Agnès | Hervé | Philippe | Vincent | Alain | Béatrice et Claude | Denis | Antoine | Georges | Martine | Pierre | Florence | Ludovic | Solange | Hervé | Yvonne | Victor-Fabien | Laurent | François | Gladys | Simon | Christine | Timothy et Jessica | Suzanne | Anne-Marie | Pascal | Hélène | Marie-France | Olivier | Xavier | Eliane | Eric | Patrick | Christine | Martine et Daniel | Ingrid et Michel | Patrice | Stéphane | Aissatou | Alix de | Marianne | Christian | Marie-Laure | Pierrette | Antonia | Nicolas | Christine | Robert | Geneviève | Philippe | Pierre | Christos | Monique | Alain et Annick | Jean-Paul | Armelle | Daniel et Elisabeth | Jean-Michel | Blandine | François | Pierre | Association des | Annick | Dominique | Anne | Alizée Meissonnier et | Jean | Anna | Ghylaine | Luc | Karin | Véronique | Frédéric | Morgane | Odile | Gérard | Coralie | Joel | Stéphane | Lionel | Yannick | Laszlo & Nathalie | Valentine | Marie-Julie | Armelle | Catherine | Chun | Jean-Louis | Jean-Claude | Philippe | Eleonora | Nicole | Nicole | Christophe | Robert | Isabelle et Jean-Frank | Cécile | Lydia et Jean | Stéphane | Marc | Françoise | Martine | Maleen | Christiane | Delphine | Maureen | Christian | Danièle | Juliette | Micheline | Marie-Pierre | Isabelle | Thibault | Agnès & Sylvain | Yvan | Véronique | Nicolas et Marie-Pierre | Frédéric | Mado de | Michèle | Joris | Pascal | Régine | Monique et François | Audrey | Jeanne | Sandy | Salomé | Claire-Lise | Faustine | Sylvain | Colette | Marc | Stéphanie | Anne | Bruno | Sylvain | Martine | Matthias et David | Olivier | Philippe | Sophie et Arnaud | Hélène | Olga | Abigail | Valérie | Claire | Fabrice | Fabrice | Jean-Paul | Christian | Fabienne | Eric | Françoise | Paul | Hélène | Claude | Mademoiselle | Odile | Marie | Stephan | Philippe | Cartis Classic | Lorenzo | Françoise | Olivier | Corinne